Original ADS and RAC Celebrate Receiving the Silver Award at the UK Business Tech Awards 2021 for The Transformation Through Technology Category with their Charge Pod system.
The automotive industry is undergoing a period of profound change as the world begins to phase out traditional internal combustion engine vehicles and switch to EVs. As of today, there are approximately 370,000 electric cars (EVs) and 710,000 plug-in hybrids (PHEVs) on the road in the UK and these figures are set to rise substantially in the coming years. Some studies have estimated a third of UK drivers will own a fully electric vehicle by 2025. This technological change is daunting for many with an estimated 58% of the population considering range anxiety as a barrier to switching to electric vehicles.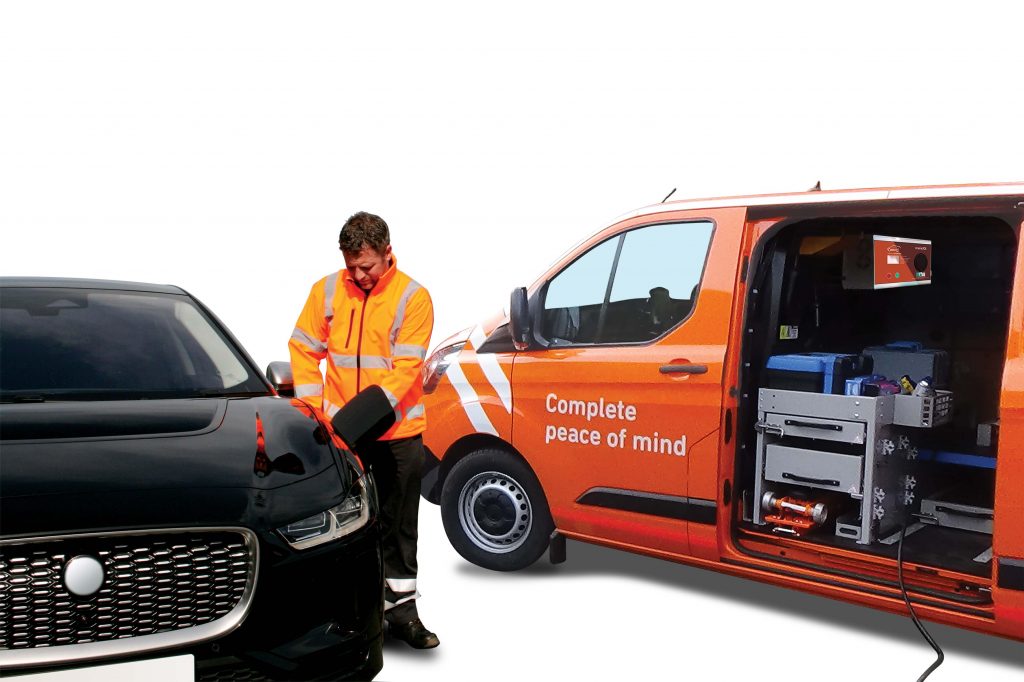 As such, it is essential that motoring support services adapt to ensure they meet the changing needs of modern-day drivers. Ever since its foundation in 1897, the RAC has been consistently at the forefront of developing motoring services to provide complete peace of mind to more than 12.7 million UK personal and business members.
The fact there is no jerrycan solution for EVs is particularly alarming if we consider the current statistics of internal combustion engine vehicles breaking down due to a lack of fuel. On average, the UK alone records approximately 827,000 cases of breakdowns because the driver has run out of fuel each year. Omitted from these statistics are people who may have called on friends, family or colleagues to provide a jerrycan of fuel and been topped up at the roadside that way. This means that in reality, this figure is far higher. So, as the use of EVs is increasing, it is imperative that a quick and simple solution is readily available. Other 'power boost' solutions available on the market have not exploited the use of technology and as such, alternative solutions either cause an unnecessarily high environmental impact, are considerably more expensive, and would be impossible to incorporate into existing patrol vehicles.
As a result, the RAC and Original ADS worked together to design and develop an ultra-lightweight and compact power boost system for flat or severely charge depleted EVs which has 100% duty cycle and fits into standard patrol vehicles already in service. By developing new ground-breaking technologies, Original ADS were successful in their endeavour to provide the best solution to this problem on the global marketplace.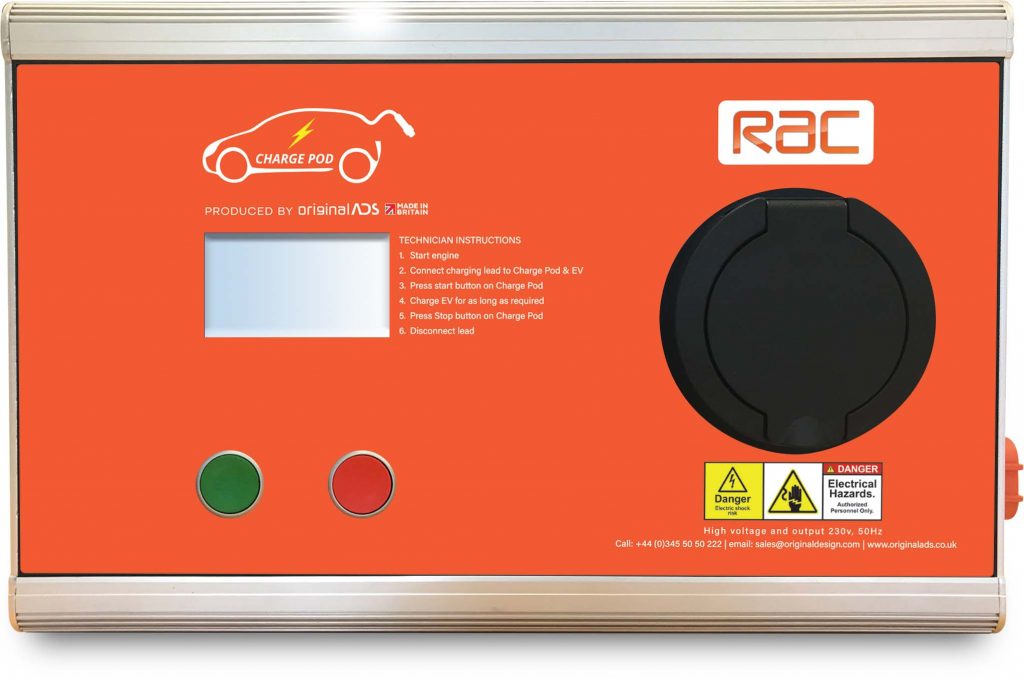 Considering the challenges we have all faced over the past two years, developing a product of this calibre has been no easy endeavour. From the coronavirus pandemic to the electronic component shortage, our organisations have shown resilience and adaptability which is why we are immensely proud to have delivered a product which has received such fantastic feedback from the UK Business Tech Award judges.
Both Original ADS and the RAC strive to provide world-class products and services to their customers, which is why it was critical for our organisations to enter Charge Pod into the UK Business Technology Awards. By receiving the Silver Award for the Transformation Through Technology category, it has provided us with further validation for the customers of both our companies (Original ADS and the RAC) that Charge Pod is a premium product which surpasses all other solutions from a practicality and technological perspective and has been assessed by experts in technology. We believe our success at the awards has therefore added an additional technological standard to our product which has national recognition which other rival products do not have.
This UK Business Tech 2021 Award is testimony to the hard work and dedication of our teams, and we took great pride in celebrating this achievement at the awards ceremony.
More information:
More information about the Charge Pod system can be found at: Charge Pod: The Lightweight and Compact Mobile EV Charger (originalads.co.uk)
Further information about the implementation of Charge Pod in the RAC's fleet can be found at: RAC exclusive deal will see hundreds more mobile EV charging vans on the road | RAC Drive
For more information about EV breakdown cover, follow the link here: Electric Car Breakdown Cover | #1 For EV Breakdown | RAC