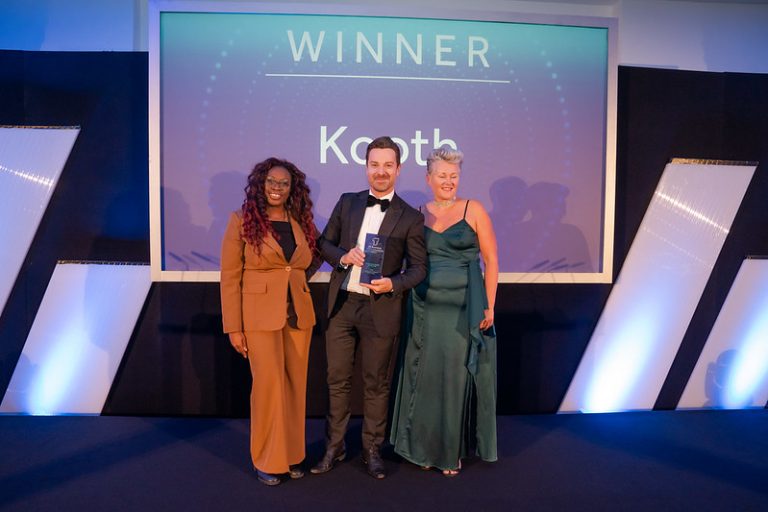 In 2021 being recognised as the HealthTech Pioneer of the year at the UK Business Tech Awards for our role in supporting the nation's mental health was a proud moment for the Kooth team. The award currently sits 'pride of place' in our London Office.
This recognition represents the step-change that we have seen in recent years in terms of the de-stigmatization and growing acceptance that mental health is of equal importance to physical health. It is also an acknowledgement from the technology industry of the work Kooth has been doing not just as a pioneer in healthtech, but to ensure our digital platform, and data, is truly representing what it means to be 'tech for good'. And finally, and perhaps most importantly, the accolade is seen as a testament of all the hard work, dedication, and passion of the whole Kooth team in what was a very challenging year for us all.
After all, the COVID-19 pandemic has had a marked effect on mental health globally. Measures taken by national governments, including social distancing and mandatory working from home, have been viewed as essential in decreasing the rate of the virus spreading and protecting the NHS. These same measures, however, have contributed to a severe negative effect on populations' wellbeing: uncertainty, a lack of social interactions and/or preventing visits to family and friends; often restricted access to open spaces; confined living conditions with young children and elderly relatives; and anxiety associated with working from home, being furloughed or made redundant are all proven to be detrimental to mental wellbeing. In fact, in October 2020 the Centre for Mental Health estimated 10 million people in England would need new or additional mental health support as a direct consequence of COVID-19
With this in mind, supporting people with their mental health and wellbeing has never been more pertinent. Kooth lives for insights and data, constantly striving to develop and analyse the evidence base for its services and online therapy. As an NHS-commissioned service, it uses its own data to provide a barometer into the issues that are on the rise within the wider population. At the beginning of the pandemic, Kooth recognised that it was in a unique position to provide extraordinary insights into Covid-19's impact on the nation's mental health. It did this in a couple of ways – first, Kooth provided anonymised mental health insights to support the NHS and Local Authorities, Public Health England, policymakers, charities, and businesses as of the first lockdown in March 2020.
Then in May 2021 the Kooth Pulse 2021 report was published. It examined the anonymous data from 192,000+ Kooth service users and third-party research, and expert opinion to address both the clinical impact of the pandemic and how service users are really feeling about their lives. The report helped garner an understanding of the effects Covid-19 had posed on society, a clearer picture of the issues that will need to be addressed today and in the future. And gave clear insights into how professionals, organisations, and citizens can, and should, work together to enable positive mental health across the nation.
One of the key findings from the Kooth Pulse 2021 report was an increase in the need for services that can help everyone adapt to a fundamental change in their daily lives and routine. Over the course of the pandemic the nation has adapted to a more home-based life. As a result, there is an even heavier reliance on technology which has further accelerated the switch towards digitally based mental health support and services that are accessible 24/7, 365 days a year. The impact of COVID-19 saw an 89% upsurge in the usage by adults of Kooth's digital mental health platform in NHS FY2020. For children and young people, this was 42%.
As we enter the third year of the global pandemic, we know we have more work, partnerships, collaborations to do, as well as more data and insights to uncover to ensure we continue our mission of creating a welcoming space for effective personalised digital mental health care. Available to all.