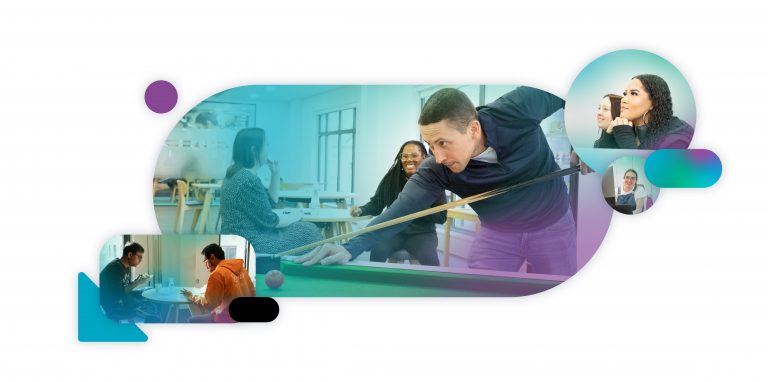 Who we are
At Simply Business, we like to say that we're a tech company that happens to sell insurance.
Since starting up in 2005, we've helped over three million small businesses, self-employed people, and landlords find the protection that's right for them.
tech.SB is the tech team within Simply Business that's dedicated to delivering on the business's purpose – insuring small businesses and enabling big dreams.
And our B Corp status ensures that our impact on people, the environment, and the small business owners we insure is positive.
We're honoured to be part of a select group of businesses that are shaping the future of their industries. It's gratifying to be recognised for the work that our talented team does to push the boundaries of our industry and enhance our customer experience. 
What We Do
Our goal is to simplify the complicated task of protecting small businesses and our team's industry-leading online experience is a huge part of that.
The accessibility of our online experience is a big part of our partnership with Barclays. For Barclays, the most popular bank among small business owners, we have embedded our insurance experience into their system. This makes it easy for their huge customer base of small business owners to access the cover they need.
Summarising all of our team's accomplishments is impossible as there are many, but some of the highlights are:
insuring Amazon's US small business retailers, making sure they're adequately protected
enabling enhanced self-service capabilities for our customers
implementing cloud-based telephony technology that supports our award-winning contact centre
creating AI technology that ensures our customers get the best possible price
developing a platform built on DevOps technology that enables automatic scaling and continuous delivery of new business capabilities
We're also a people-centric business. We've always put a strong emphasis on expanding the voices in the tech community and we're extremely proud of what we've achieved.
We are in the fourth year of our fantastic apprenticeship scheme, in which we've partnered with Makers, Coding Black Females, and Codebar to successfully introduce people from a variety of backgrounds into the fantastic world of tech.
And with a female representation of more than 30% in our team, we have one of the most diverse technology teams in the industry.
We also came together to ensure our people's mental health was at the forefront of our minds during the difficult period of lockdowns. Due to us already having the tech in place for hybrid working before the pandemic, we were able to adapt quickly and prioritise the wellbeing of our people.
We chose to partner with Mind as our corporate charity in 2020 and have since continuously improved our mental health support and achieved a gold standard in the Mind Workplace Wellbeing Awards 2021.
The way we supported our team throughout the pandemic is a point of pride for us. Their resilience and determination enabled us to scale during a very difficult time.
What this means to us
"We are delighted that we have been shortlisted for two awards in the UK Business Tech Awards, Fintech Innovator of the Year and Large Tech Company of the Year.
This recognition speaks volumes about the company's commitment to pushing the boundaries of the insurance industry. Our goal is to enhance our customer's experience by empowering them to unlock the potential of technology.
This award would enable us to focus on the impact we have on others. We aim to work with more grass roots organisations and encourage more people to explore careers in tech.
We also want to show that insurance can be disrupted and become a modern industry that everyone should want to be a part of." – Hasani Jess, CTO, Simply Business.