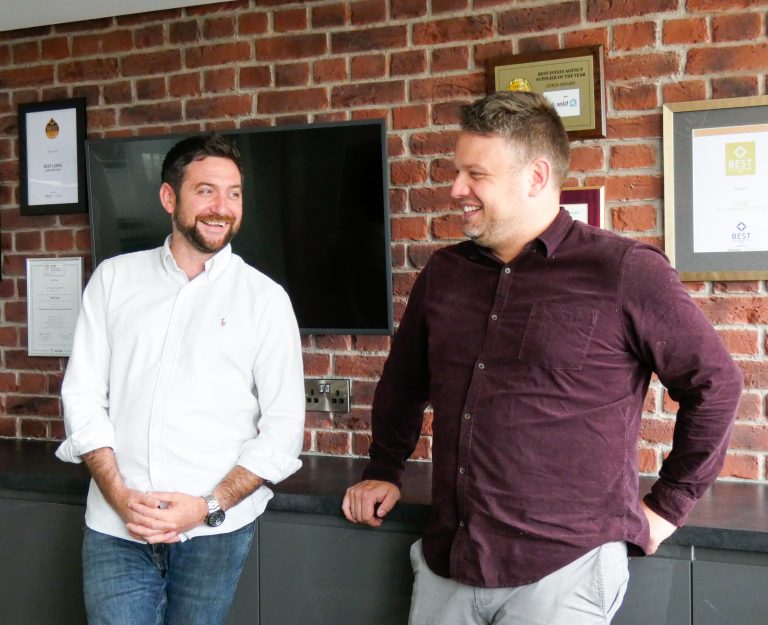 iamproperty: Innovators in PropTech
In 2009 iamproperty established itself as a property sector pioneer. Founded by Ben Ridgway and Jamie Cooke, iamproperty creates digital solutions that simplify and speed up the home moving process for everyone involved, modernising the UK property market. iamproperty began with its market leading auction service, iamsold, selling residential properties via the Modern Method of Auction (MMoA).
In 2021, iamproperty launched movebutler – a modular onboarding and sales progression platform, digitising and automating large parts of the buying and selling process for consumers, whilst managing other elements, including conveyancing and compliance for agents.
iamproperty has grown to now over 400 employees, both at the North East headquarters and remotely across the UK, this has allowed for product expansion and services driven by the best industry talent. iamproperty's negative attrition staff turnover is only 11.44%, sitting ahead of the UK average of 15%. Iamproperty is not only innovating for property industry professionals but also benefitting your average buyer and seller. It's also changing how residential property works in the UK.
From start-up to disruptor
The iamsold auction service has grown to be the UK's largest residential property auctioneer with over 60% market share of online auctions, placing first on the EIG Auction League Table in 2020 and 2021 as the 2022 results are eagerly awaited. In early 2022, iamproperty's Partner Agent Network grew to over 4,000 UK branches using movebutler and iamsold to offer a modern moving experience to consumers.
iamsold is the first auctioneer to be partnered with both Rightmove and Zoopla, with both portals listing iamsold properties for auction on their online platforms. Early this year iamproperty acquired VTUK and its innovative Openview CRM solution, allowing iamproperty to integrate more services to support the Estate Agents of the UK. In August iamproperty announced the acquisition of SDL Auctions' portfolio of Estate Agency Partners who use the SDL online MMoA service, welcoming them into the iamproperty Partner Agent network and supporting the next phase of growth for their market-leading iamsold auction service.
iamsold continues to experience year on year growth, and with 2021 being a transformative year for the property market, online auction saw increased popularity. iamsold surpassed all its targets for 2021 including:
iamproperty has paid over £17.1M fees to our Partner Agents in 2021
Produced 5,023 auction sales
Paid £361,241 in incentives to Partner Agents
Raised a capital value of £804,572,684 in 2021
Had 70,728 viewings made, and had 55,434 bids placed
All of these accomplishments are what led the company to achieving it's £1 Billion of property sales in just 12 months.
Ben Ridgway said Partner Agents have received record fees this year, adding: "One of our key priorities is collaborating with our partner agents to understand the challenges they are facing and developing our solutions to support them."
When questioned about the finalist status Ben said: "We're so proud to be finalists among such strong competitors, our business has grown so much in the past year and it's an amazing feeling to be recognised at this level".
Creative communication
iamproperty injects personality and fun into its product marketing campaigns, yet always delivers clear, relevant information on its propositions to Estate Agents. To bring the iamproperty movebutler product to life, 'the moovs' were created – a team of robot characters each representing the features and benefits of a module within the platform. The latest campaign was launched as the TV show Love Island aired June-August 2022.
This campaign used animations to help the robots in 'making moovs' and 'coupling up' to creatively demonstrate how the modules work together on the platform. It's been reported that the show receives a high number of applications from Estate Agents, so the campaign should especially resonate and stand out on social media.
Ben Ridgway, Managing Director of iamproperty, said: "This year's Love Island promo was all about it being the 'OG of dating shows' and as movebutler is also a first of its kind, being the UK's first end-to-end onboarding and sales progression platform, we couldn't help but put our own spin on it for our latest marketing campaign"
The pandemic transformed the property market, challenging professionals to explore new ways of delivering essential home moving services. iamproperty remains an industry pillar, continuously innovating to support its Partner Network with opportunities to win business, adopt innovative technology and generate new streams of revenue to stay ahead of the curve.
Transforming the future of property
iamsold's auction service has grown regionally and nationally through key strategic partnerships with Estate Agents including Connells Group, Countrywide and Arun Group, amongst its network of forward-thinking agencies, working together to offer vendors choices aligned to their moving circumstances.
Today's buyers and sellers expect more. With that in mind, iamproperty continues to modernise the market, creating solutions that build efficiency and trust. Informed by consumers and designed by agents, for agents, it solves genuine industry problems. The innovation roadmap is full of service additions and enhancements that continue to drive improvements and transformation in the industry, offering more choice to consumers, bringing more speed and security, helping agents grow and succeed.
Ben and Jamie understood that success would come by employing innovative, forward-thinking people and have embraced hybrid and remote working to grow the team sustainably. They are committed to building an inclusive culture where the team can thrive, enabled by the development of training programmes which create different routes to entry.
As iamproperty continues to beat its own track record of success, the focus moving forward is to provide its customers with service excellence, support its team in building thriving careers and influence the property industry to evolve into a system that works for all parties through market first innovations and partnerships.