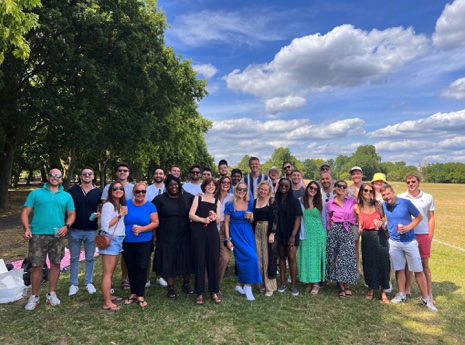 Everyone at Skai was excited to learn that we are a finalist at this year's UK Business Tech Awards for Ad Tech Company of the Year!
This is a fantastic honor and opportunity for others to recognize the mountain of work our teams have put in over the years to ensure our clients get the best on the planet to manage and optimize their digital advertising programs.. Our omnichannel marketing platform includes solutions for retail media, paid search, paid social, and app marketing.
The evolution of Kenshoo to Skai
In 2021, we rebranded from Kenshoo to Skai. Our new name better reflects our ongoing mission to go beyond just helping our clients better manage their ecommerce programs to truly becoming a full partner in their success. That means evolving from basic campaign management to assisting marketers in getting smarter through meaningful data and insights.
Skai helps marketers make more intelligent decisions with best-in-class data features and partnerships. With Skai's neutral, agnostic position and 100+ integrations with leading ad vendors, marketers can marry the right data that identifies and actions those holistic insights.
"This is a turning point for the world, and we are answering the call of our partners and clients by building an omnichannel marketing platform that aids more aspects of the process, from data to insight to action to validation and growth," says Skai's CEO and Co-Founder Yoav Izhar-Prato. "Our clients have been asking for it—executive leadership, brand managers, consumer insights analysts, and media specialists alike—and we're humbled to be able to deliver after seeing great initial results."
Omnichannel ad tech is critical at this time.
The digital landscape has changed dramatically since 2019, and marketers are under increasing pressure to drive huge revenue growth.
Optimizing media on individual advertising channels is no longer enough; today, marketers need an AI-powered advertising platform like Skai for omnichannel media activation. Our marketing platform is the best in the industry, using game-changing AI technology to connect data and workflows across all walled garden media for informed decisions, high efficiencies, and optimal returns.
Our unique (and now award-winning!) AI capabilities include:
Advanced consumer insights & trend forecasting. Our AI-powered consumer intelligence solution uses patented natural language processing and machine learning technologies to collect, connect, and classify (at 90% accuracy) billions of unstructured data points from which unique market, competitive, and consumer insights can be extracted to optimize campaigns.
Estee Lauder used our consumer intelligence solution to better understand the Chinese skincare market and drive double-digit growth. A leading VMS brand used our insights to realign marketing messaging with emerging consumer trends; the change led to the brand becoming a Prime Day top seller.
Marketing planning & activation tools. For more than 16 years, Skai's AI-powered advertising planning and activation solutions have enabled brands to grow their market share and win the digital shelf by maximizing every touchpoint across online marketplaces, search engines, app stores, and social media.
As online advertising evolves, we continually release new AI capabilities, including these recent additions:
Search-Term Analysis, which identifies underperforming clusters of search intent to recommend high-impact negative keywords. Our AI technology sculpts search traffic for peak performance while eliminating wasted spend.
Budget Navigator, a revolutionary forecasting engine that helps marketers uncover investment opportunities, guide budget allocation, and adjust spend in accordance with business goals across all online and offline channels. Advanced AI algorithms and predictive statistical modeling set budget optimization on auto-pilot.
Creative Intelligence AI, which automatically classifies images of ad creative into millions of predefined categories to assess what is working (or not!). This capability detects objects, faces, emotions, and embedded text to derive insights that drive creative strategies and tactics.
Smarter marketing measurement & attribution. In response to changes to consumer data privacy policies, digital marketers have changed the way they track, measure, and optimize their programs.
Our Impact Navigator solution is an AI-powered incrementality testing tool that measures the real-world effectiveness of every campaign, tactic, and channel. Using AI, Impact Navigator automatically creates test and control groups that have maximum correlation- a game-changer for marketers struggling with measurement challenges.
Skai's cutting-edge omnichannel innovation
Read more about our client success storeis and other awards.
Case studies:
Awards:
Client results:
461% increase, Amazon Ads ROAS
57% increase, page traffic
280% increase, installs
10% increase, new account openings
756% increase, conversions
600% increase, Facebook leads